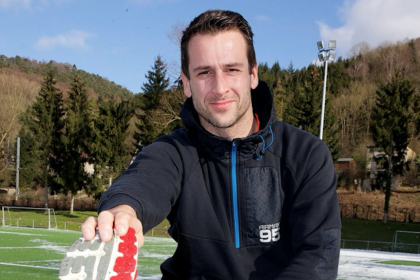 The President of the Luxembourg Coaches Association, Thomas Nielsen, denounces the legal gaps in the regulation of sports coaches and personal trainers (ALECSPT), of the sports management.
The profession of coach, sports coach or personal trainer is totally discredited due to the shortcomings that affect their legal framework. The president of the ALECSPT Association, Thomas Nielsen, bangs its fists on the table. "I created this Association in 2012 to associate coaches and sports coaches with a university degree in physical education bac +4 or bac +5 type," he explains.
> "They improvise themselves as coaches"
Members who have followed a course in Germany, Belgium (Louvain-la-Neuve, Free University of Brussels) or, like him, in France (Henri-Poincaré-Nancy-I University).
In Luxembourg, there is no official sports coach status. The only recognized status is that of professor of physical education and sports in the secondary level in school. To be able to access it, you must have a master's degree and also pass a rather selective exam. Holders of a University Degree who decide to become self-employed have therefore no status despite their skills. Finally, a third category of players without real qualifications take advantage of the absence of official status in the field of coaching to engage in a competition characterized as "unfair" by Thomas Nielsen. Anyone can indeed proclaim themselves coach or sports coach, overnight.
The examples supporting his remarks are disconcerting: "A banker or a butcher who wants to convert to an unemployed person who wants to round off his month ends in addition to receiving the allowances of the State. "All kinds of black work, but not only. Many pseudo-trainers or physical pseudo-preparers offer their services in well-equipped fitness centers in Luxembourg. As freelancers or employees of the fitness centers in question. "They improvise themselves coaches, with all the risks that this entails! "explains Thomas Nielsen. Inadequate programs, wrong movements and other chronic injuries would be common in these centers, according to the president of the ALECSPT.
…
Full article in French below.
Article written by Claude Damiani, journalist at the Le Quotidien
 (Photos : AP/Jean-Claude Ernst)
Updated on the 11/02/15 8:43 | Published on the 11/02/15