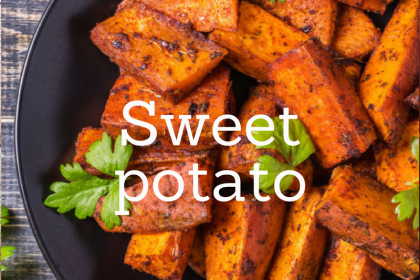 Low in calories (86.3 kcal per 100g) and rich in essential micronutrients, sweet potato contains minerals, antioxidants and is one of the best sources of vitamin A.
There are different varieties, the peel and flesh of the sweet potato can be white, yellow, purple or orange that have a high beta-carotene content.
A diet composed of sweet potatoes would reduce the risk of cancer (prostate for men and breast cancer for women).
Sweet potatoes contain over 6g of fiber per serving helping to regulate your gastrointestinal function, manage your blood sugar levels as well as your cholesterol. Slimming ally, sweet potato brings a sense of satiety that will help you manage your weight.
The darker the color of the flesh, the more anthocyanins it contains (natural pigments of leaves, petals and fruits). Composing them with their peel is a way of adding antioxidant compounds to your diet.
Below you will find an easy recipe to accompany your meats and vegetables or can even be served as a snack.
Oven baked sweet potatoes
Yield : Serves 3 – Prep time : 5 min – Cook time : 45 min
Ingredients :
4 sweet potatoes
1-2 tablespoons olive oil (or melted coconut oil)
Seasonings to taste:
Fresh shopped garlic
Cumin
Sea Salt
Sesame seeds
Directions:
Preheat the oven to 210 degrees.
Cut the sweet potatoes into 4 parts (wedges) each
Spread on a baking sheet and add the olive oil
Bake for 20 minutes
Take the potatoes out of the oven and give them a turn
Add your seasonings
Put back in the oven for 15 minutes
Turn off your oven and let them in for 10 minutes until crispy
Optional – add some fresh coriander
Soft on the inside and crispy on the outside, you've got yourself a winning recipe.